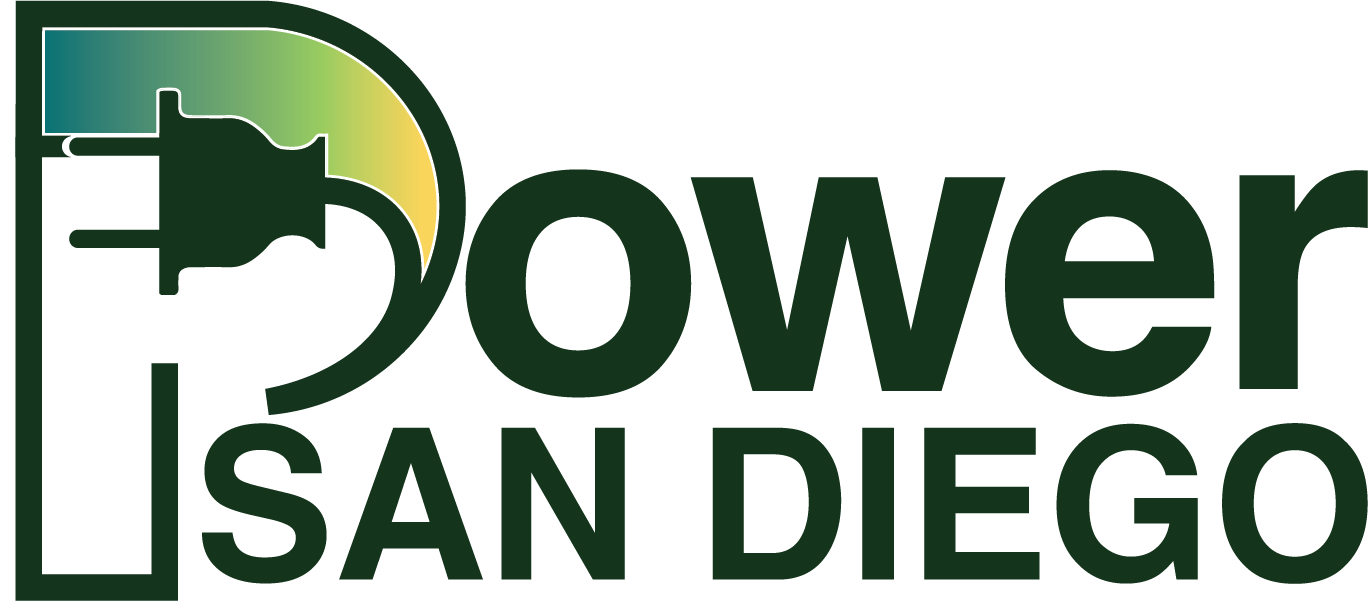 The Grassroots Campaign for Change
We can fire SDGE!
Rally Behind the Change San Diegans Deserve




Local Generation & Storage
Welcome to the Power San Diego Ballot Initiative
The Grassroots Campaign for Change! 
The Power San Diego Ballot Initiative is here to give San Diegans a voice, and an option to change our energy future. Power San Diego is a growing coalition of San Diegans who are committed to creating a nonprofit utility that meets San Diego's needs. 
San Diegans currently pay the highest rates in the country to a company with the lowest customer satisfaction in the west and third worst in the country. It's time to change this!
Power San Diego wants to create a nonprofit public utility. One that is owned by the people and operated for the people. Lower rates, no fixed charges while also protecting your roof top solar is a future we can have. Let's cut the profit going to shareholders and invest in our communities!
We are Power San Diego and we hope you will join us to make the change San Diego so desperately needs. 
San Diegans pay the highest electricity rates in the country!
$1M is what SDGE profits daily, in the city alone!
San Diegans are behind on their electricity bill.
$600 is the average owed by those behind on their bill. Over $200M in total.
San Diegans pay the highest electricity rates
average rate in California
average rate across the Nation
MORE than other Californians, on average
MORE than the National Average
MORE than California Rates in 2000, on average
Power San Diego is fighting for the creation of a locally owned and operated nonprofit power utility, that would put the citizens of San Diego's interests first. Our mission centers around putting you in charge, and to make our energy future one that is affordable and sustainable.
Creating a local nonprofit power utility means they would be accountable to us, the citizens of San Diego. It means our needs will drive their decisions, not the needs of shareholders who are only involved for profit. It means a permanent change for our future, not empty promises and additional fees.  
Let's Change Our Future!
What is a Nonprofit
Power Utility?
Brings electricity to homes and businesses
May generate and/or buy power
Is a not-for-profit entity
Is owned by the community
Is usually a division of local government
Is transparent (subject to sunshine laws)
Involves citizens in decision-making
  Your Money Stays Here
One of the key ways a non-profit power utility would save San Diegans money is by eliminating the nearly 20% profit margin that typically goes to SDGE, as they are a for profit company. With the creation of a nonprofit power utility, your hard-earned money stays right here in the community, local infrastructure, renewable energy projects, and benefits for you and your neighbors!
Elimination of Transmission Fees & Fixed Charges
A nonprofit power utility would prioritize local energy production through solar and battery backup. Aiming to eliminate transmission fees and fixed charges, while harnessing solar power and strategically storing excess energy to create a sustainable and cost-effective solution for our community.
You take control of your choices
Our mission is clear: empower you to take control of your energy choices, save on costs, and support sustainable practices for a better future. Supporting the Power San Diego Ballot Initiative would make you an essential part of a movement to change our energy landscape.
Public Utilities in california charge less
Around the state customers are saving substantially by having access to a public utility, on average, compared to rates with SDGE.
average rate at Los Angeles's Public Utility | LADWP
average rate at Sacramento's Public Utility | SMUD
average rate at Silicon Valley's Public Utility | SVP
San Diegans have the opportunity to propose a non-profit public utility option to be voted on by the people. To achieve this, the members of our grassroots campaign, Power San Diego, need to gather sufficient signatures to back the initiative.
Can we count on your signature?
SDGE ranks last in customer satisfaction in the west & ties for 3rd worst in the entire country
SDGE is ranked dead last in customer satisfaction, by JD Power, compared to all the other utility companies in the western region. And it's not much better nationwide, where they're almost scraping the bottom tied for the third-to-last spot. It's pretty disappointing, right?
But here's the good news: nonprofit utilities are performing much better. SRP – Salt River Project's Electric Division is a non-profit leading customer satisfaction in the west! They are not alone in nonprofits providing high ranking customer service.
If you're tired of the lackluster service from SDGE, it's time for a change!
Let's fire SDGE and make the change to non-profit power for San Diegans.
Join Our Grassroots Movement
We cannot do this without you!
Study finds municipal utility could save San Diego ratepayers up to 14% in 10 years
San Diego Gas & Electric finishes at or near bottom of JD Power customer satisfaction studies
SAN DIEGO RESIDENTS STUNNED AS UTILITY BILLS MORE THAN DOUBLE THIS MONTH
'I'm just fed up,' some consumers tell regulators who will decide SDG&E's proposed rate hike
SAN DIEGO UTILITY CUSTOMERS FURIOUS ABOUT SDG&E RATE HIKE REQUEST
California regulators got an earful from San Diego Gas and Electric (SDG&E) customers upset about the utility's request for an increase in revenue during their general rate case.
"It's unfair that they're asking ratepayers to keep paying more and more," said Paula Brandt of Poway. "Every time you open a bill from them they want to increase something."
The utility is asking regulators to approve about $3.6 billion in new revenue over the four-year period.
The Advocates for Positive Change
Empower Change: Sign up to volunteer for a brighter future
By providing your cell phone number, you consent to receive periodic campaign updates through automated text messages from Power San Diego. For SMS, Msg & Data rates may apply. Text HELP for help, STOP to end. Privacy Policy: https://wearepowersandiego.com/privacy-policy/